Hard Surface Floor Maintenance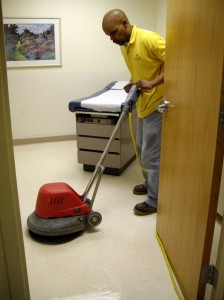 Blu Cleaning specializes in hard surface floor maintenance. Cleaning, waxing, and preserving the life of your floors is imperative to keeping a clean space and saving money in the long run. Most vinyl floors need to be waxed and maintained although more no wax floors are being installed. No wax floors should be occasionally
machine scrubbed but are designed to not require wax which is more environmentally friendly. If they are not coming clean with mopping which can happen over time, they will be machine scrubbed which is an additional cost.
Other vinyl floors should be periodically stripped and waxed. We strip the floors and will strip baseboards. Baseboards should not be waxed although some companies do wax them. They should be stripped because in the process of stripping floors wax will splatter on the baseboards because of the rotating pads used to strip the floor. After vinyl floors are stripped, they are rinsed, dried and rechecked to make sure all wax & dirt are removed and baseboards are clean. We then apply 4 thin coats of wax allowing each coat to fully dry before applying the next coat.
To save customers money, after a floor has been stripped and waxed and is ready for floor care again whether 3 months, 4 months, 6 months or a year later, depending on the foot traffic, we will provide a scrub & recoat which is less money and more environmentally friendly. A scrub a recoat does not involved stripper, removes the top two layers of wax and then we apply 2 fresh coats of wax. This can be done as long as the base coat of wax has not yellowed over a long period of time nor are there any deep scratches down to the base coat.
Faux wood floors are machine scrubbed with a soft pad and a protective coating designed for those floors is laid. Some customers prefer a wax over the floor in which case a low gloss finish can be applied.
Wood floors can be sanded and coated or screened and coated. For this work we subcontract to a company that specializes in the work due to specialized equipment and knowledge.
Specialty Hard Floor Cleaning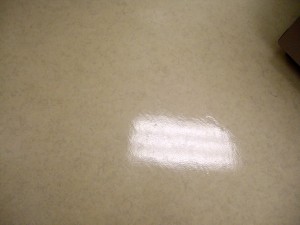 Specialty floors are cleaned and treated if appropriate based on the manufacturers specs for floor warranties. There are a variety of new floors on the market especially for LEEDs certified buildings and we work with general contractors and installers to take care of those floors to ensure manufacturers warranties remain intact.
Rubber floors are scrubbed with a soft pad and a specialized coating is applied specifically for rubber floors. The coating prevents the rubber floor from drying out and cracking and gives it a nice sheen making it aesthetically attractive.
Ceramic Floor Restorative Cleaning and Sealing
We have specialized equipment to provide a restorative clean and strip of ceramic tile floors. Grout is cleaned. Following the cleaning the floor is sealed to protect the grout prevent absorption of spills in the grout. Sealant does not change the appearance of the tile. Ceramic tile should never be waxed. Waxed ceramic tile will wear and can peel at the edges of the tile pieces and removing the wax can be challenging.