Clean Room Maintenance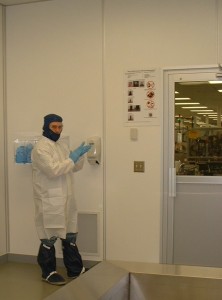 Blu Cleaning specializes in Clean Room Maintenance and we have the expertise required for cleaning medical manufacturing 100K (ISO 8) and 10K (ISO 7). We understand and have the equipment, procedures, and experienced personnel to properly clean ceilings, walls, floors, pass through and gowning room areas of clean rooms. For business expanding into medical manufacturing, we can provide the necessary janitorial support to ensure compliance. We also understand the documentation required with employee signoffs daily for compliance audits.
Gowning for Clean Room Maintenance Cleaning
Gowning for clean room maintenance cleaning requires not only specific dress requirements but also specific procedures for how an employee gowns and wears rubber gloves, masks, hood coverage for some clean rooms as well as boots or booties. We can instruct our employees for proper adherence.
Equipment going into clean rooms may need to be cleaned before being taken in or may need to be kept in the clean room environment and dedicated to the clean room environment.
Sticky mats can be changed by us and tracked by stick mat number to ensure it is changed with each shift or by specified hours.