Carpet Cleaning
Blu Cleaning's janitorial services excels in carpet cleaning. From a one-time cleaning to creating a carpet maintenance program, Blu Cleaning will be there to clean and sanitize.
Carpet Cleaning (Extraction and Dry Foam)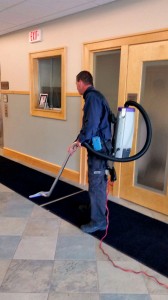 Blu Cleaning has a variety of carpet cleaning machines for steam extraction from walk behinds to machines with wands as well as dry foam machines. What is most important with carpet cleaning is that the carpet is rinsed well and the soap pulled out of the carpet. Soap residue left in the carpet with attract dirt and cause the carpet to get dirtier sooner. Because so many of our customers have high security installations on their buildings, we do not use truck mounts but use self-contained equipment. This avoids leaving a door open to the facility while cleaning the carpets.
Carpet Maintenance Programs
We can provide a carpet and floor maintenance program where we schedule carpet cleaning monthly, quarterly & semi-annually. Monthly carpet cleaning involves spot cleaning carpets each month. Quarterly maintenance programs involves cleaning the carpeted traffic areas quarterly which is entrances, halls and conference rooms and cleaning offices less frequently. The full carpet can also be scheduled to be once or twice per year which varies with each customer.